The heart wants what the heart wants, and what the heart wants is a machine.
It's true we've had a busy and bustling summer, but I have a confession to make and it will be punctuated with Carrie Bradshaw JPGs: I've spent the last month living in a low-grade state of tech-related terror because my Macbook Air doesn't seem to want to upgrade to the new OS without completely decimating the past two-and-a-half years of my life, electronically speaking. Including the guts of like half a dozen FFAF posts.
We're going to attempt emergency partition reconstruction and a few other suggestions from very helpful friends in the next 48 hours, but I'm scared and thinking about all those times I took The Cloud for granted or squandered a shiny, brand new 1TB hard drive, letting its squished and unopened box gather dust in a neglected corner of the office. I thought I could fix it with an ethernet cable, I really did.
Hug your computers, today, guys. You don't have to live like this. Okay? Okay.
Let's talk summer favorites. Everlane is at it again with a new Everlane x Langley collaboration of pitch-perfect tomboy femme muscle tees ($28) and drape tanks ($24). I got my hands on the latter in a creamy slub cotton that almost gives it a softly heathered look, and now it's waitlisted in the navy as well. The muscle tee, definitely a more androgynous but no less awesome version, is in stock in all sizes and colors. The weight and tailoring give them a lot of polish, and you can't beat the cost per wear.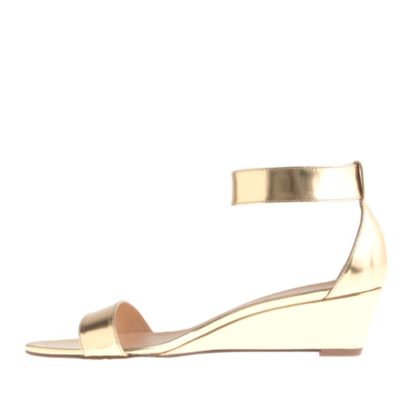 My new BFF: J. Crew's Lillian Mirror Low Wedge in Metallic Gold. I have a few flat sandals for summer that are fine for schlepping around a beach house or on errands or a sunset stroll to the Charles, but fail to give an outfit the kind of polish I require to feel minimally presentable. (Weird personal preference, I know.) These definitely do the trick with a little lift and a lot of luxe, and are the perfect compromise between a casual flat sandal and a pair of bona fide heels. Yay!
A lot of skincare products talk a big game but deliver mediocre results, and I haven't got the patience (or, frankly, the wallet) for all that. I had the chance to try the new Resynchronizing Skincare suite from Chanel back in June and wasn't expecting any miracles. Well, damn it, now I'm hooked on La Nuit, the overnight product from the trio (the others are Le Jour and Le Weekend De Chanel).
The others were alright, but every time I went to bed with this on, my skin felt changed immediately, and even better in the morning. Softer, radiant and glowing. I used an even lighter hand than usual with my favorite CCs, and went totally barefaced more often. Considering how little I used, the $85 price tag doesn't seem outrageous - I'd be surprised if the bottle didn't last six months to a year.
Speaking of CCs, this is my summer jam (and might even be a year-round romance, who knows). I know Supergoop! isn't at all the same as Gwyneth's goop, but I always just kind of rolled my eyes at the brand because of the lazy name association, I guess. Which is really rude! I'm so sorry! I won't do it again!
I was in Miniluxe, waiting to settle my bill one day when I decided to try their CC Cream. The swatch was so impressive that I tried it on my squeaky clean visage and went about my day. Hours later I did a double-take when I passed a mirror - I'd forgotten I had it on, my skin looked amazing, and I actually racked my brain for a second wondering what I'd done differently that morning! Derp. That kind of gorgeous-but-natural staying power plus SPF35 in one clever package? Sold. The only downside I can think of is the limited shade selection. I wear the darkest shade, Medium to Dark, and that's absurd. I do love it for how it lifts and brightens so dramatically. MAKE MORE SHADES, SUPERGOOP!
We've all been here, right? Don't lie. My ultimate black liner evolution started with Laura Mercier's Tightline Cake Liner, moved to various dalliances in potted gel versions, Urban Decay's 24/7 Glide-On Eye Pencil (first in Zero, then Perversion, which I still love), a fling with Eyeko's Skinny and Eye Do liners, and then, once it seemed I might never find The One, the lash boosting safety and idiot-proof awesomeness of Physician's Formula Eye Booster™ 2-in-1 Lash Boosting Eyeliner + Serum brought me to my knees, and for a cool $10.
It made me wonder what the hell I was ever doing with Laura Mercier. Just like we all have that weirdo ex that makes us cringe, so it is with makeup. My "beauty uniform" involves ultra-light coverage, Benefit PosieTint or Guerlain Terracotta Blush Sun Shimmer Highlighter in Spicy Coral, and a swipe of mascara and brow gel with a kitten eye, so a good liner I can throw on quickly is non-negotiable.
I was very intrigued by the new Benefit They're Real Push-Up Liner. I find the mascara brittle and hateful, but the crazy concept of the liner was too exciting not to try. After the first few attempts to do it myself at home, though, I completely gave up. The clicky part was weird! It came out all funny! What the hell angle are you supposed to hold this doohickey at, anyway?!
via sharonthemakeupartist.com
HINT: There is way too much product coming out of the tip in this photo!
I ignored it for two weeks, and then picked it up again. This time I clicked and no product came out, so I squeezed the rubber bit gently angrily and lo! the tiniest amount of liner peeked out. I started a cateye. It was perfect. Completely pitch black, a beautifully clean line, and it doesn't budge. So that's the trick! For every click, I squish appx. 3-4x, and I'd estimate using a single click per eye.
I think it's a total game changer because it makes the retro runway cateye look really accessible, and pops like crazy in photos. With a killer mascara - I'm in love with Kevyn Aucoin's 'The Essential' Mascara - you don't need falsies at all.
Last and definitely least, we've fallen into the kind of stupor that only binge-watching The L Word from Season One can provide. I am ashamed and horrified to tell you that we are somehow starting Season Five. THE HEART WANTS WHAT THE HEART WANTS.