Spring Back
The day I wore this dress it poured non-stop. I left the house and the sun was sparkling across the damp lawn, but by the time I got to work it was just buckets of water falling out of the damn sky. Bullocks, I thought to myself, sheepishly stepping around puddles on the walkway up to my office, I should have worn thick tights and more substantial shoes. I took slight consolation in the fact that I at least had my Richard Chai for Target trench to wear over it.
I think it's rained here for two weeks straight, or it feels like it anyhow. My part-time horseback park ranger, part-time accountant work colleague and officemate says we've got 30+ inches of rain this season, which is astonishing considering even the rainiest past seasons garner 20-22 inches, tops. We're all bloody sick of it.
Yesterday, a friend of mine posted this gem on Facebook, which sums things up perfectly: Dear Sky - You're ugly. We get it. WE GET IT ALREADY.
The thing is, I got this dress for sunny Spring days. I loved the bold cobalt blue, the simple origami pleating on the neckline, the ladylike, knee-skimming length of it. I imagined wearing it with bright red shoes and a huge white flower pinned in my hair on the 4th of July, or with some sandy flats or sandals and a nude bag for a stroll with the tomboy, maybe a lingering brunch date with a carafe of mimosas or sangria outdoors. You don't get a dress like this and then ruin it by covering up your gams, kittens!
Plus, my pretty pedi was sick of hiding under socks and tights.
I made the best of it. Part of me feels like it turned out just fine, part of me feels like the styling wanted the skirt to be more pencil than A-line; at least with a pencil silhouette, the lace and updo might make more sense. Anyway, you can't hit solid gold every single day, I suppose. We'll have to see if the dress holds up better in true Spring weather!
We're staying local this weekend, once again. It feels like we've been flitting off to Tahoe every other weekend, and next weekend we're off to San Diego. I'm taking M on a top secret hot date - she has no idea where we're going! On Saturday, if we're magically bestowed with sunshine, we're considering a little tea dance and I'm really hoping that Dakota and I will have a lesson on Sunday. We also must file our taxes - the deadline is fast upon us, and we always get cranky on account of the completely unfair discrimination we face with our checkbooks, watching thousands of dollars swirl the drain.
Details: Dress, thrifted Lace jacket, H&M Espadrilles, Dolce Vita Belt, vintage
Bling: Wooden bangle, Pier One Hoops, Lauren G. Adams Necklace, Banana Repubic
By the way, I've got a big favor to ask you, dear readers. If you have $5 or $10 or $20 to spare in these hard times, can I persuade you to consider making a donation, whatever the amount, to the San Francisco Dyke March? After 18 years the Dyke March Committee is having serious financial difficulty that may result in canceling all or part of this year's march. It's our Christmas. It's tradition. It's one day out of the year when we can come together during Pride Weekend and celebrate who we are and who we love, and it's kind of really up to us right now to keep it going strong.
I've mentioned this before, but there's a big push to try and get a certain amount raised by April 1st. A little more information from the committee:
WHY? The economic downturn has hit us hard. In the past The SF Dyke March has been made possible through generous grants from fabulous organizations, donations and fee waivers from the city and minimal private fund raising. Those grants have been cut, our insurance is no longer covered and due to city deficits many of the fees that have been waived can no longer be covered by the city. You know this can't happen without port-o-potties!
THE PLAN: We need to raise $30,000. At least half needs to come in the next month to make the Dyke March happen. Our mission is to get 2,000 people to donate at least $10 each in the next 30 days. Please donate as much as you can to help close the remaining gap!
HOW YOU CAN HELP: DONATE $10 (or more!) SHARE email everyone you know & invite folks to the Facebook event ASK your friends if they've donated their $10
YOU CAN HELP MAKE THE DYKE MARCH HAPPEN!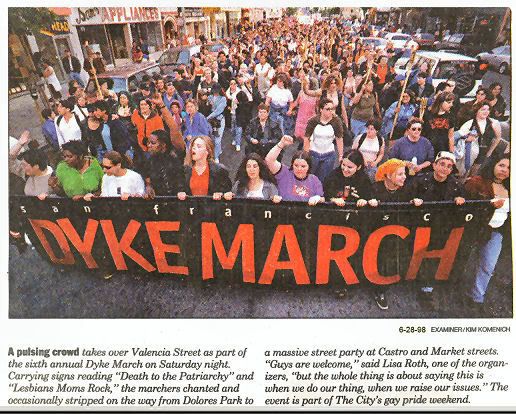 DONATE NOW: http://thedykemarch.org/donate For more information: http://thedykemarch.org/ Find the SF Dyke March on Facebook: https://www.facebook.com/event.php?eid=133455806727885