Friday Finds!
It's Friday, temps are in the mid-90s, and the thunderstorms we were promised are nowhere to be seen with the sky so clear and blue.
I've got a pitcher of sweet tea cooling (which is really gonna hit the spot tonight with a splash of bourbon, of course), have been hopping between laundry and projects around the house while M's been off and on conference calls all day long in the office. I don't know if I mentioned it before, but now that we've moved she goes into the Boston office once a week, and the home office the rest of the time! It's a pretty sweet arrangement that we're both rather pleased with.
I thought I'd do a quickie post on what's new for me, and as you might have noticed, one item is a gorgeous piece of furniture! Here's another one: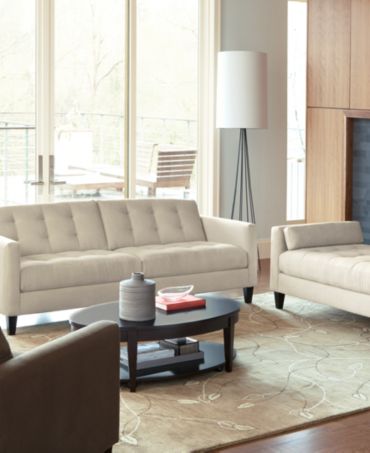 We bought that exact set at Macy's - the sofa and daybed. Our living room is shaped unusually, in that the rear of the living room (or the front of the house) has a recessed area that's all big windows and crisp white crown molding that really pops against the stately blue paint we had done right away. We'd always wanted a sectional, but it didn't make sense for our space, so we thought adding the daybed would create the fluidity of an L-shaped sectional where there is wall and window. Plus, a daybed in the living room! It feels deliciously indulgent and I will definitely post a photo at some point.
Anyway, the milky color and tufting sold us on these pieces, even though mid-century modern isn't usually our style, and they look incredible with the blue walls! We can't wait to refinish the floors to darker, cooler brown and already have a bold, patterned rug en route via Gilt Home to pull everything together. For texture and suppleness, we chose this incredible whiskey leather ottoman by Mitchell Gold+Bob Williams. It'll bring so much warmth to the room! The more beat up it gets, the more beautiful it'll become to us, and it should be super functional as well, doubling as a coffee table with some trays and such.
Here's the paint chip for the blue we chose, Sherwin-Williams' Distance, customized just a touch by having it lightened a tiny little bit and having a hint of violet removed:
There. Now the rest is pure, good old-fashioned femme lust (pictured above):
J. Crew's Long No. 2 Pencil skirts in double-serge cotton, in Casablanca Blue and Rustic Brown (or Safari Cat, I guess). I cannot tell you how much I love these skirts. They are damn hot and very Mad Men, and I think the 27" length is what really does it. I wish I could afford to scoop them up in every single color, but I definitely need at least the black (and burgundy!) as well. Highly recommend.
butter LONDON nail polish in Come to Bed Red and La Moss, courtesy of JewelMint. Two colors, both vampy, both Fall essentials. Can't wait to try 'em!
Speaking of JewelMint, I used my credit there to snag this jewelry basic - a chunky gold bracelet dubbed Cinema Americano.
At the beginning of the week I took my mom into Lush for her first time. She loved it, and I couldn't resist their new, insanely wet and glossy black mascara. I just wish the wand situation wasn't so poor - there's scarcely an inch between the end of the wand and the cute dropper cap. Debating whether or not to return it or just use a new, clean wand that's standard sized when I want to wear it. The formula is so jet black and so shiny and beautiful. FOR THE LOVE OF FEMMES, FIX THE WAND, LUSH!
Everlane. The Ryan Tank in Navy. I mean, need I say more? It's perfect. Side note: The petite's snap backpack arrived with my tank and it's divine. D I V I N E. I am so tempted to snap one up even though I've been backpack-averse since I graduated from high school, it's that fantastic.
What awesome things have you got your hands on lately? Anything I need to know about? Tell me, tell me! And have a fantastic weekend. We're going to check out the Davis Flea in Somerville on Sunday and go in search of antiques tomorrow, and then wrap up the weekend with that boozy sunset cruise I mentioned yesterday. Fun!
XOXO,
FFAF