Derby Day
...and they're off! 
I love the Kentucky Derby. Obviously, it's the horses. Perhaps one day in this lifetime I will actually attend the derby, but in the meantime the handful of times I've been to the races back home at Golden Gate Fields will have to do. (Dollar Day, anyone!?) Plus, there's always The Jumper Classic, which I have to get to this July  since I just missed it last year.
Anyway, we were invited to a derby day party, of course we said yes, and the mad dash for outfit planning began. I had a strapless, gorgeous vintage Milly dress all picked out. The print is leafy and oversized, just lime green and chalky chocolate-brown against a soft white background. As it turns out lime green hats and fascinators are rather difficult to find (and yes, I looked through every green hat on Etsy and eBay), and most brown ones are oriented toward cooler weather.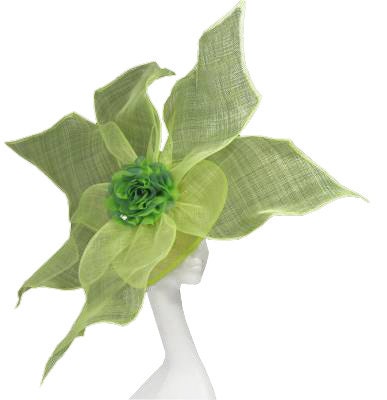 Still, I had bookmarked a ton of very outlandish and very expensive options I was going to attempt to DIY on the cheap, especially since a brand new Michael's has opened up nearby. The one above from Hats by Cressida in London, for example, is $280, which I suppose is reasonable for actually attending the derby as a one-time splurge, but for an annual house party, as fabulous as it was? Negatory.
It's still a freaking incredible hat, though, isn't it? One day!
Where was I? Oh, right. The hat. My hat. Clearly, I ended up with an altogether different dress and hat, because you know what I learned? You don't match the hat to the dress, my friends, you match the dress to the hat.
That's what happened when I saw this hat at Bobby from Boston, and tried it on. It was amazing and meant to be and - BONUS TIME - so reasonably priced.
And out came this ancient Libertine for Target dress in its smartly draped black crepe, with its perfect little cream collar and belt. I knew it would suit the hat nicely with its vintage shape and feel. I could have gone with a more classic shoe, but I can't get enough of these B. Makowsky suede platform sandals, and I knew the wedge heel would make it comfortable for traipsing all around Jamaica Plain, where our pre-parties and party-parties and after-parties all were.
Oh! And I found this lovely crane rhinestone crane pin loaded with lots of black, cream and gold at a Newbury St. boutique called Lou Lou, and snapped it up even though I wasn't sure if it would end up on me or the hat or a corsage or what. I chose me, and couldn't pass up layering on the oversized pearl and black lace necklace, either.
The enamel bracelet is from Betsey Johnson, the perfect and very sweet perforated gloves are from SoWa Vintage Market, and y'all recognize that cutie pie Madewell bag by now, I think. There was a vintage shawl I dyed myself with black tea from stark white to a nice, vintage-looking cream, but it's not here.
M looked very dapper, don't you think? I take zero credit for her outfit, she came downstairs as I was curling my hair and I was very impressed! She paired an H&M blazer, vintage sweater vest, and Banana Republic shirt with a pair of Express trousers and Asos brogues. I believe the hat is actually from our trip to Puerto Rico, and that was back in 2008. Before she proposed, even! Good heavens.
It was a great day with plentiful sunshine, lots of good food, bottomless mint juleps and wonderful company. The races were exciting and muddy and over in a flash, but we had some casual, friendly bets going amongst the group and a winner amongst our pals! M & I spent the morning learning all about the horses and going over our favorites. Such a good time.
Can't wait to do it all over again next year!